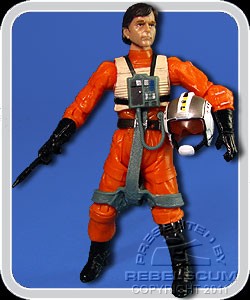 WEDGE ANTILLES
Source:
Return of the Jedi
Year:
2011
Number:
VC28
Assortment:
Basic Figures
Retail:
$8.99
Assortment Number:
21489/97568
UPC Number (US):
6 53569 52902 6
UPC Number (UK):
5 010994 607319
Weapons and Accessories:
Comments:
Celebrate the legendary
Star Wars
saga that changed the universe forever! This collection brings to life the incredible story of good versus evil that captured our imagination and took us to a galaxy far, far away. Iconic
Star Wars
heroes and villains are captured with incredible detail and premium features to commemorate each epic tale in the
Star Wars
saga. May the Force be with you!
Points of Interest:
Wedge Antilles uses the same body as 2006's VTSC Luke Skywalker (X-Wing Pilot) with a new head sculpt.
This figure was originally planned to be released in 2010, but it was pushed back until 2011 due to a manufacturing error with the head sculpt.
There are several cardback variations: the first release showed a full blank cardback, the second version changed to a close-up photo of just the character. The carded photos above are of the multilingual version from the UK, which included stickers covering the majority of the cardback with new regulations.
Photography by Dan Curto

Back To Basic Figures