IMPERIAL TIE FIGHTER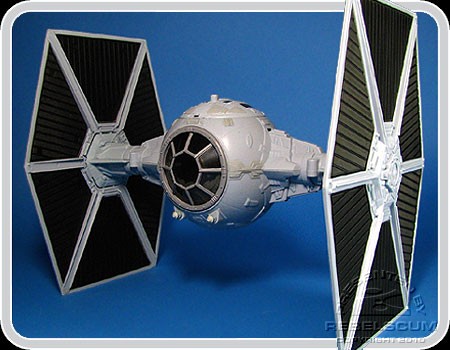 Source:
The Empire Strikes Back
Year:
2011 (Target Exclusive)
Assortment:
Vehicles
Retail:
$24.99
Assortment Number:
27644
UPC Number:
6 53569 55268 0
Weapons and Accessories:
• Ejecting Wing Panels
• Removable Cockpit Seat
Comments:
Celebrate the legendary
Star Wars
saga that changed the universe forever! This collection brings to life the incredible story of good versus evil that captured our imagination and took us to a galaxy far, far away. Iconic
Star Wars
heroes and villains are captured with incredible detail and premium features to commemorate each epic tale in the
Star Wars
saga. May the Force be with you!
Points of Interest:
•
Imperial TIE Fighter
is a kit-bashed vehicle that uses the new cockpit first seen in 2009's TLC
Imperial TIE Fighter
and the wings first used in 2003's SAGA
TIE Fighter (Imperial Dogfight)
.
• The packaging for this vehicle is inspired by the classic Kenner design.
• Photography by Dan Curto
Back To Vehicles