TAKODANA ENCOUNTER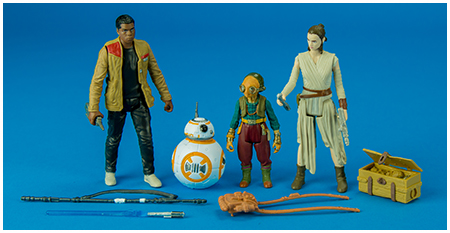 The Force Awakens
Revealed during the 2016 International Toy Fair, Hasbro's Takodana Encounter multipack is the first, and at the time of this entry's publication, the only way fans of The Force Awakens can add a 3 3/4-inch figure based on Maz Kanata to their action figure collection. The set, which began hitting shelves in North America in April 2016, also included slight repaints of the previously Finn, Rey, and BB-8 figures as well as the little chest the old girl kept Anakin Skywalker's lightsaber. How she got it, we may never know.

Product Information
Manufacturer:
Hasbro
Collection:
The Force Awakens
Source:
Star Wars: The Force Awakens
Year:
2016
Original Retail Price:
$24.99
SKU:
6 30509 45717 5
Item Number:
B6815
What's In The Box?
Maz Kanata
Rey (Takodana)
Staff
Backpack
Finn (Takodana)
Blaster
BB-8
Chest
Anakin Skywalker's Lightsaber Hilt
Anakin Skywalker's Ignited Lightsaber
Blaster Pistol
Text & Photography by D. Martin Myatt
Page Built by Adam Lamping
comments powered by

Disqus