THERMAL DETONATOR "HOT POTATO" GAME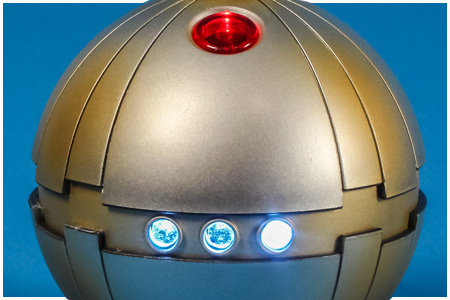 Disney Parks 2013
Debuting at the 2013 Star Wars Weekends event, the Thermal Detonator is a great way to kill time while waiting in line for the next Star Wars Celebration or the next Star Wars film!
The Star Wars – Thermal Detonator - "Hot Potato" game is fun for the whole family. Activate the switch just like Princess Leia did in Star Wars: Return of the Jedi. Once the detonator sounds begin, pass it from person to person as fast as possible. Time will quickly start to run out. Any player that drops the Detonator or the player holding the Thermal Detonator when the time expires is out of the game.
A Star Wars character will provide commentary ending the game. Character sounds featured in the game are C-3PO, Jabba the Hutt, Darth Maul, General Grievous, and Count Dooku.
The Thermal Detonator "Hot Potato" game also has a movie mode. Turn the switch on the back of the device from "GAME" to "MOVIE". In movie mode, the device will feature lights and sounds seen in Star Wars: Return of the Jedi.

Product Information
Manufacturer:
Disney Parks
Year:
2013
Original Retail:
$24.95
UPC Number:
4 00007 47848 0
What's In The Box?
Thermal Detonator
Base
(4) LR44 1.5V Batteries
Points Of Interest
In game mode, the voices of C-3PO, Jabba the Hutt, Darth Maul, General Grievous and Count Dooku are heard after the "boom"
The box features a special 30th Anniversary Return of the Jedi hologram
Photography & Text by Chris Wyman
Page Built by Adam Lamping
comments powered by

Disqus