UTAPAU SHADOW TROOPER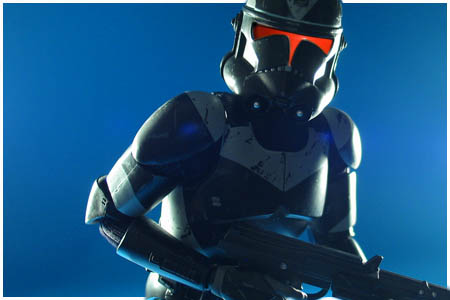 Militaries Of Star Wars 1/6 Scale Figure

The brainchild of Armand Isard, Director of Republic Intelligence and Director-General of the Senate Bureau of Intelligence, the shadow trooper division was created mainly as a reconnaissance tool. Designed to augment the dwindling number of ARC troopers, shadow troopers operate singly or in pairs. They operate covertly, yet still in armor, posing as mercenaries of bounty hunters to slip quietly in and out of locations while quietly gathering intelligence.

Shadow trooper armor is based on standard Phase II clone armor. Strategically placed magseals allow the attachment of deceptive plating that alters the appearance of a shadow trooper. Different styles allow the shadow trooper to appear to be Hutt-hired mercenaries, Black Sun operatives, or independent bounty hunters. The plating is primarily cosmetic; it does disguise a clone trooper's sensor signature against detection devices. The plating also alters regular movement, preventing observers from recognizing the characteristic "clone gait."

When the Confederacy of Independent Systems stronghold was discovered on Utapau as General Grievous' hideout, a platoon of shadow troopers was assigned to infiltrate six sinkhole cities and place jammers that would allow the Republic army to invade without notice. Success of the shadow trooper division led to the creation of the Storm Commandos, as well as Blackhole's elite stormtrooper forces.

Sideshow collectibles' 1/6 scale Utapau Shadow Trooper was revealed on October 23, 2011. It went up for pre-order four days later and began shipping in November, 2011.
























Year: 2011
Original Retail: $89.99
Item Number: 100011
Exclusive Edition Size: 1,500

What's In The Box?
- Clone Trooper Body
- Body Suit
- Armour (14 pieces including helmet)
- 2x Sets of Boots
- 6x Right Hands
- 7x Left Hands
- BlasTech DC-15S Blaster Carbine
- BlasTech DC-15A Long Range Blaster Rifle
- Star Wars Display Stand


Photography & Text by D. Martin Myatt