STARKILLER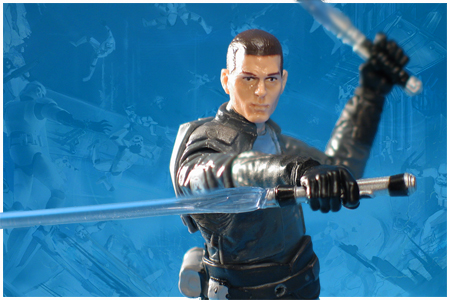 Vader's Apprentice
Answering the pleas of thousands of collectors, the fifth wave of figures in Hasbro's 2012 Vintage Collection gave us, for the first time ever, Grand Moff Tarkin from
A New Hope
on a Kenner card. In addition to this the wave also offered four other brand new figures including Odd Ball (Clone Pilot) from
Revenge Of The Sith
, Nikto (Skiff Guard) from
Return Of The Jedi
, Starkiller (Vader's Apprentice) from
The Force Unleashed
, and Shae Vizla (Old Republic Bounty Hunter) from
The Old Republic
.
This collection began hitting shelves in June 2012, and the initial releases feature an easy to remove sticker advertising the "Life-Sized Darth Maul Statue" giveaway. All these figures also feature a packed in pamphlet with additional details on the giveaway.

Product Information
Manufacturer:
Hasbro
Year:
2012
Original Retail:
$9.99
Assortment Number:
37518/37499
UPC Number:
6 53569 73252 5
What's In The Box?
Starkiller Figure
2x Unique Lightsabers
2x Unique Lightsaber Hilts
Back Armour
Chest Armour
Waist Belt
Waist Belt with Loincloth
About This Figure
Starkiller is an all new figure.
Text & Photography by D. Martin Myatt
Additional Photography by Rich Alot