KITHABA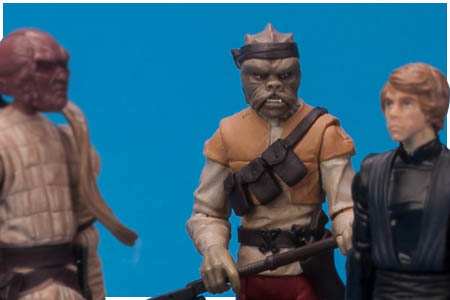 Skiff Guard
The fourth wave of figures in Hasbro's 2012 Vintage Collection featured five new figures included the long-awaited (and completely warranted) updated Dr. Evazan from
A New Hope
, Aayla Secura from
Revenge Of The Sith
, Kithaba (Skiff Guard) from
Return Of The Jedi
, the 501st Clone Trooper from
Revenge Of The Sith
, and the
Expanded Universe
ís Nom Anor.
This collection began hitting shelves in April 2012, and the initial releases feature an easy to remove sticker advertising the "Life-Sized Darth Maul Statue" giveaway. All these figures also feature a packed in pamphlet with additional details on the giveaway.

Product Information
Manufacturer:
Hasbro
Year:
2012
Original Retail:
$9.99
Assortment Number:
98527/37499
UPC Number:
6 53569 73200 6
What's In The Box?
Kithaba Figure
Bandolier
Force Pike
Blaster
About this Figure
Kithaba (Skiff Guard) is an all-new figure
Variations
When it began shipping in April, 2012, the Kithaba figure was available with either a black or a red headband.
Photography by Rich Alot
Text by D. Martin Myatt