WAMPA & LUKE SKYWALKER (HOTH)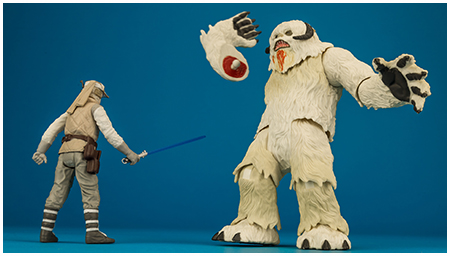 Star Wars Universe Action Figure Two Pack
Wampas are powerful furred bipeds that dwell in the snowy wastes of the ice world Hoth. These hulking predators have razor-sharp fangs and claws, yet move with surprising stealth, relying on their white fur for camouflage while hunting prey such as tauntauns.
The Wampa & Luke Skywalker (Hoth) set featured on this page, along with the Enfys Nest's Swoop Bike and Rathtar & Bala-Tik, shipped together as the first Class A boxed sets released in the Solo: A Star Wars Story branded Star Wars Universe 3.75-inch action figure collection. The assortment had a street release set for April 13, 2018 as part of the Solo product roll out, however many retailers disregarded the warnings on the shipping boxes and released their inventory as early as a month before slated release.

Product Information
Manufacturer:
Hasbro
Source:
Star Wars V: The Empire Strikes Back
Year:
2018
Original Retail Price:
$19.99
Assortment Number:
E1689/E0325
SKU:
6 30509 61610 7
What's In The Box?
Wampa Action Figure (with detachable right arm)
Luke Skywalker (Hoth) Action Figure
DL-44 Heavy Blaster Pistol
Lightsaber
Force Link 2.0 Instruction Sheet
Photography & Text by D. Martin Myatt
Page built by Adam Lamping
comments powered by

Disqus