WEDGE ANTILLES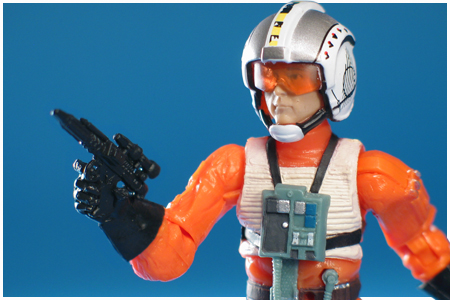 The Vintage Collection
The fourth wave of figures in Hasbro's 2012 Vintage Collection featured five new figures included the long-awaited (and completely warranted) updated Dr. Evazan from
A New Hope
, Aayla Secura from
Revenge Of The Sith
, Kithaba (Skiff Guard) from
Return Of The Jedi
, the 501st Clone Trooper from
Revenge Of The Sith
, and the
Expanded Universe
ís Nom Anor.
This collection began hitting shelves in April 2012, and the initial releases feature an easy to remove sticker advertising the "Life-Sized Darth Maul Statue" giveaway. All these figures also feature a packed in pamphlet with additional details on the giveaway.

Product Information
Manufacturer:
Hasbro
Year:
2012
Original Retail:
$9.99
Assortment Number:
98692/37499
UPC Number:
6 53569 73205 1
What's In The Box?
Wedge Antilles Figure
Helmet
Blaster
About This Figure
The Wedge Antilles figure uses the body of Grizz Frix figure from the 2011 Toys "R" Us exclusive Battle Over Endor (2 of 2) multipack, which is a slight retooling of the 2006 Saga Vintage Collection Luke Skywalker: X-Wing Pilot figure.
Originally released in one revision case in 2011, the Wedge Antilles figure became one of the most sought after figures in The Vintage Collection, and supply didn't even come close to meeting demand. Being repacked in 2012, it finally became available to collectors at a standard retail price.
There are three documented variations on this figure's card back. The first version featured an image of its actual card on the back of the card. This version was very quickly replaced with a new cardback that featured a still from the film in its place. From there, Hasbro altered the oval on the card back that stated "Wedge Antilles Return Of The Jedi". One version has a solid light violet coloured background behind the text, and another features a gradient overlay background from dark blue to violet behind the text.
Text & Photography by D. Martin Myatt