WICKET W. WARRICK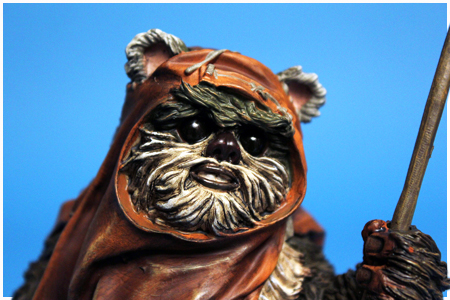 Collectible Mini Bust
Wicket W. Warrick is the brave Ewok scout who played an instrumental role in helping the Rebel Alliance defeat the Galactic Empire during the Battle of Endor.

Product Information
Year:
2011
Original Retail:
$60
Edition Size:
1,650
Item Number:
80137
UPC Number:
8 71810 00834 6
<! remove list below if no points of interest -->
Points of Interest
This highly-detailed mini bust, based on the original Lucasfilm costumes and props, was sculpted and painted by Gentle Giant Ltd.
The blade on Wicketís spear is the only part that detaches from the bust itself.
This piece features a windowless box which is very uncommon in the newer Gentle Giant mini busts.
Wicket began shipping to collectorís in December of 2011.
Photography by Chris Wyman
Edited by D. Martin Myatt