YAVIN PILOT PACK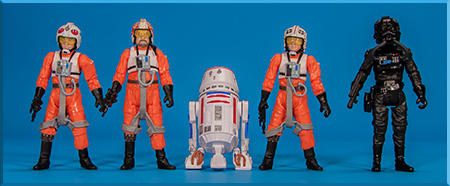 Movie Heroes
Sold in North America exclusively through Toys "R" Us, the Yavin Pilot Pack multi pack featured five five figures and all the accessories you would expect. With the exception of the Jek Porkins action figure which uses many uniquely sculpted pieces and the head sculpts for the Tiree and Davish Krail, this set features repaints of previously released figures. Despite this, the figures included do help fill out any collector's Battle of Yavin dioramas.
R5-D8 - JEK PORKINS' DROID

TIREE - GOLD TWO

JEK PORKINS - RED SIX

DAVISH KRAIL - GOLD FIVE

MAULER MITHEL - BLACK TWO
North American Tri-Logo Product Packaging

Product Information
Manufacturer:
Hasbro
Collection:
Movie Heroes
Source:
A New Hope
Year:
2012
Original Retail:
$39.99
Item Number:
A0792/A0790
What's In The Box?
R5-D8 (Jek Porkins' Droid) Action Figure
Tiree (Gold Two) Action Figure
Jek Porkins (Red Six) Figure
Davish Krail (Gold Five) Action Figure
Mauler Mithel (Black Two) Action Figure
Tiree's Helmet
Jek Porkins' Helmet
Davish Krail's Helmet
3x BlasTech DL-44 Blasters
Mauler Mithel's Helmet and Life Support Chest Piece
Mauler Mithel's Belt and Holster
1x Blaster
About This Set
Text & Photography by D. Martin Myatt
Page Built by Adam Lamping
comments powered by

Disqus