YODA'S JEDI ATTACK FIGHTER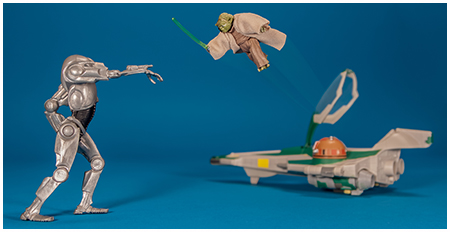 Movie Heroes
Yoda pilots an attack fighter to blast Super Battle Droids. The fighter is designed for hyperspace capability, which allows the Jedi Master to fly across the galaxy on solo missions. The craft's compact size and two missile launchers make it an ideal attack ship for Yoda to use in battle against the ever-present Battle Droid army.
The Yoda's Jedi Attack Fighter was part of the first and only wave of Hasbro's 2013 Movie Herores Class I vehicle collection and was first put on display in their booth at Celebration VI. The assortment also included the 501st Legion AT-RT, 501st Legion Attack Dropship, and MTT Droid Fighter sets. Each set included two repacked or kit-bashed action figures and a brand new or repainted single passenger vehicle. In this instance, the vehicle was a debut release, the Yoda featured a retooled head, and the Super Battle Droid was a simple repaint.

Product Information
Manufacturer:
Hasbro
Year:
2013
Original Retail Price:
$19.99
SKU:
6 30509 78639 9
Item Number:
A0922/A0918
What's In The Box?
Super Battle Droid Action Figure
Yoda Action Figure
Removable Cloak
Cane
Lightsaber
Jedi Attack Fighter Vehicle
Cockpit Canopy
Cockpit Seat
Astromech Dome
2x Projectiles
Instruction Sheet
Fighter Pods Pamphlet
Text & Photography by D. Martin Myatt
Page Built by Adam Lamping
comments powered by

Disqus