YODA (BROWN SNAKE)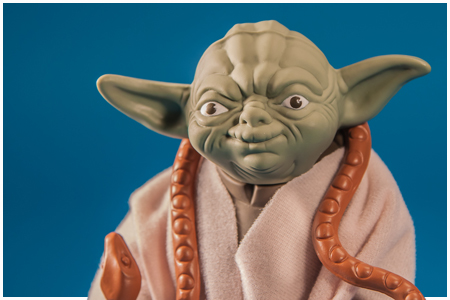 Jumbo Kenner Figure
Along with the regular version, Gentle Giant Ltd. officially announced the Premier Guild Member exclusive edition of the Yoda Kenner Jumbo Figure on May 10th, 2012. The PGM version of the figure is based on the
brown snake version
from the Classic Kenner collection from 1980, which was different in every way beyond the color of the snake. This figure began arriving at doorsteps in the first week of May, 2013.

Product Information
Manufacturer:
Hasbro
Year:
2013
Original Retail:
$75.00
Placement Number:
UPC Number:
What's In The Box?
Yoda Figure (dark skin with brown pacman eyes)
Removeable Belt
Removeable Cloak
Brown Snake
Gimer Stick Cane
Interesting Facts About This Version
When revealed in May, 2012, the mock up photo featured the Orange Snake version of Yoda wearing a Brown Snake. Before going into production, Gentle Giant Ltd. researched the variation and changed the colorway to better match the 1980 figure they were basing the figure on
At quick glance at the images above it is clear that the green paint on the figure's limbs do not match the color of the figure's molded head. This wasn't a mistake or an oversight. The original Classic Kenner Brown Snake Yoda also featured limbs that didn't match the head.
The Classic Kenner Yoda action figure standing beside the Kenner Jumbo figure is the actual figure used to set the colors for production, and as you can see the skin tones are a dead match!
Text & Photography by D. Martin Myatt
Page Built by Adam Lamping
comments powered by

Disqus