Accessories
Back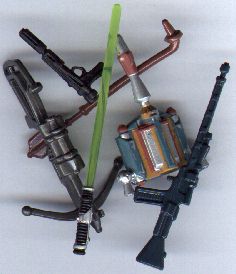 Accessories include everything from lightsabers to cloaks. Depending upon the figure, doll, ship or beast you wish to make, adding accessories makes them just more interesting! A custom-colored lightsaber in your Jedi's hand, a blaster that fits in a holster, or even reins on your beast are the icing on the cake of your custom.
Lightsabers - can be recolored using glass paint, or even regular acrylic paints (though the latter will not be transparent). Try switching the hilt and saber of different weapons for a new look. Customizers even use parts of other weapons or staffs for lightsaber hilts. Use your imagination!
Blasters - Just adding some silver to the barrel of Han's blaster makes this accessory more accurate to his Hoth weapon. Adding sights, weathering, or creating properly-scaled weapons all improve your customs.
Cloaks - can be mixed and matched to many figures. If you can, repaint the cloaks before you place them on your figure...you'll save yourself a lot of headaches that way! You can even create better cloaks for your figures by making them from cloth. Be sure, however, to find lightweight material...you don't want something too bulky or out of scale.
Removable helmets - many action figures come with helmets or hats sculpted permanently on. If you have duplicates of these figures, you can remove the head with the "boil and pop" method, then hollow out the helmet using a rotary tool (ie. Dremel). Pop in a new head to the body, then place the helmet back on. Many a "Stormtrooper disguise" custom has been made this way!