Action Collection
Formerly Collector Series
In 1997, Hasbro Direct (formerly Hasbro New Ventures) changed the large scale series name from Collector Series to Action Collection. Along with this change came new packaging from the flap box to the window box we first saw in 1997 with the release of the Target Exclusive Luke/Wampa two pack, even though the Luke/Wampa exclusive was still called Collector Series. This change appears to have been done mostly due to cost pressures, however I like the new boxes better than the flap boxes due to their better display capability.
Speeder Bike w/ Scout Trooper
Dewback and Sandtrooper

Darth Maul and Sith Speeder
Chancellor Valorum And Coruscant Guard
2000 Portrait Edition Amidala
Return To Naboo
Anakin Skywalker Naboo Pilot
Boss Nass
Sebulba
Qui-Gon Jinn Tatooine
Mace Windu
Battledroid Commander
TC-14 KB Toys Exclusive
C-3PO Electronic
Qui-Gon Jinn Electronic
Pit Droids
R2-A6
Anakin Skywalker
Darth Maul Electronic
Jar Jar Binks Electronic
Obi-Wan Kenobi
Battle Droid
Watto
Qui-Gon Jinn
Darth Maul
Jar Jar Binks
Obi-Wan, Luke From Trash Compactor & Ponda Baba

Target Han Solo With Carbonite Block
See detail figure photos below.
Target Electronic Emperor/Royal Guard
See detail figure photos below.
Toys "R" Us Two Pack

Kay-Bee Toys Three Pack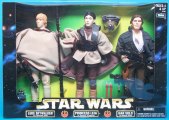 Snowtrooper
The first shipments of the Snowtrooper are known as the "Blue" Snowtrooper. It's easy to spot because of the blue area on the chest plate.


The Snowtrooper can also have differences in veil length and the blue one has two orange stripes on the the top of his feet and in this example is even more dirty than the other.



Aurra Sing
Dawn Of The Bounty Hunters
by Josh Ling and Ryder Windham
C-3PO
Tales Of The Golden Droid
by Josh Ling and Daniel Wallace
Anakin Skywalker
The Story Of Darth Vader
by Stephen Sansweet
The 1998 Exclusives
FAO Schwarz - Slave Leia / R2-D2 Two Pack - Arrived October 29
FAO Schwarz - Biggs / Wedge Two Pack - Arrived August 24
Service Merchandise - Leia Hoth - Arrived October 15
Target - Royal Guard / Emperor Two Pack - Arrived November 22
Target - Han Carbonite
TRU - Electronic C-3PO / R2-D2 Two Pack - Arrived October 12
KayBee - Trilogy Three Pack - Luke Tatooine with Poncho
Han with Flight Jacket, Leia Boushh - Arrived October 28
KayBee - Electronic Boba Fett - Due December
J.C. Penney's - Hoth Four Pack, Luke, Han, Snowtrooper
and AT-AT Driver - Arrived August 31
Wal-Mart - R5-D4, R2-D2 with Scope, Wicket - Arrived October 30
FAO Schwarz Exclusive
Biggs / Wedge Two Pack
J.C. Penney's Exclusive
Hoth Four Pack
The second half of 1997 was clearly the most exhaustive time ever for collectors of exclusive Star Wars toys. It is a very painful fact that there was more demand for each item than there were toys made, causing at least Target, Toys "R" Us and Wal-Mart to re-order their exclusives. FAO never re-ordered, making their two packs the most limited of all, at 15,000 each. It is important to note that some of the figures in the two packs were released individually in 1998, some single toys were released to other stores later, and some exclusive two packs were released in other countries besides the U.S. For example, the Han/Luke KB exclusive was available in the U.K. at Toys "R" Us.
The 1997 Exclusive List
Kay-Bee Toy Shops - Luke / Han Stormtroopers - Arrived 7/30/97
Comic Shops, Venture & Others - Sandtrooper - Arrived 9/10/97
FAO Schwarz - Imperial Gunner and Grand Moff Tarkin - Arrived 10/20/97
FAO Schwarz - Jedi Luke and Bib Fortuna - Arrived 11/18/97
J.C. Penneys - Greedo - Arrived 9/11/97
J.C. Penneys - Ben / Vader F/X Two Pack - Arrived 10/20/97
Service Merchandise - AT-AT Driver - Arrived 9/22/97
Target - Luke & Wampa - Arrived 9/24/97 (official date 10/14)
TRU - Han & Tauntaun - Arrived 10/6/97
Wal-Mart - Cantina Band Members (6) - Arrived 10/23/97

FAO Exclusive Slave Leia and R2-D2
While never shipped to stores, the initial Slave Leia heads were not only a different sculpt, they were also too big for the doll. Substantially all the heads were destroyed, but a few samples of them found their way to Hasbro U.S. and into the hands of collectors.
Big Head Slave Leia and R2-D2
Normal Head Slave Leia and R2-D2
FAO Schwarz Exclusive Bib Fortuna and Luke Jedi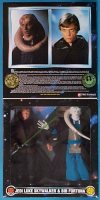 Variation Comparison
[Box Cover] [Box Open] [Loose Preview Photo From FAO]
There were two distinct waves of this two pack to FAO from Hasbro New Ventures. The first Bib differed from the second in the following three ways: The first Bib did not have the blue glove painted on his hands, his chest plate was substantially lighter in color and his skin was less flesh toned than the second.
FAO Schwarz Exclusive Grand Moff Tarkin,
Death Star Gunner and Interrogator Droid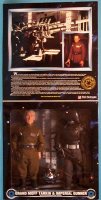 [Box Cover] [Box Open] [Catalog Photo] [Loose Photo]
Toys "R" Us Exclusive Han w/Taun Taun

Target Exclusive Luke Hoth w/Wampa

[Wampa Head Closeup] [Luke Head Closeup] [Wampa] [Luke] [Kenner Photo]
JC Penney's Exclusive
F/X Obi-Wan Kenobi vs. Darth Vader

Wal-Mart Exclusive Cantina Band Members
All figures will be identical, but each will have a different instrument.
They are shipping in even numbers with no short packs.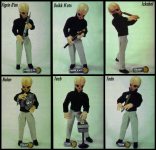 Photos from Wizard ToyFare magazine.
Kay-Bee Exclusive/Limited
Luke / Han Stormtrooper Two Pack
Limited Edition of 20,000 in the U.S.
Was also available in the UK and Australia, but not limited.
1997 Hong Kong Commemorative Edition
Individual box photos below.