BB-9E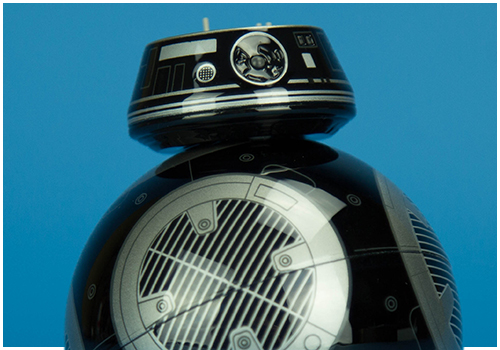 App-Enabled Droid
There's a new disturbance in the Force. BB-9E™ is a menacing astromech droid of the First Order. Control your BB-9E App-Enabled Droid with your smart device or watch it patrol on its own. BB-9E houses sophisticated tech, allowing it to roll and move his dome just like on-screen, and its strong exterior allows the First Order droid to weather any battle. This vigilant and intimidating droid is always on high alert.
BB-9E specializes in keeping starships and machinery fully operational with its many features. Keep BB-9E sharp with the augmented reality Droid Trainer and explore holographic simulations from the Star Wars™ galaxy. Watch BB-9E interact with other Star Wars App-Enabled Droids by Sphero, and view films from the Star Wars saga with BB-9E reacting by your side. This is NOT the droid you're looking for... it's the droid that's looking for you.
Revealed on August 31st 2017, just in time for Lucasfilm's international Force Friday II event to support the release of The Last Jedi, Sphero doubled their droid offerings with the BB-9E App-Enabled droid joining the previously released BB-8 and Special Edition Battle Worn BB-8 App-Enabled Droid with Force Band, along with the debut of the original astromech, R2-D2. A new Star Wars App-Enabled Droids by Sphero app available through iTunes or Google Play provided features such as Holographic Simulation, Droid-to-Droid Experience and Watch with Me.

Product Information
Manufacturer:
Sphero
Source:
Star Wars: The Last Jedi
Year:
2017
Original Retail:
$149.99
UPC Number:
8 17961 02030 1
What's In The Box?
BB-9E App-Enabled Droid
Inductive Charging Base
First Order Base
Micro USB Cable
Legal Guide
Text & Photography by Adam Lamping
comments powered by

Disqus