COMMANDER BLY


Source:
Revenge of the Sith

Year: 2007

Assortment: Mini-Busts

Retail: £40.00

Item Number: 9727

UPC Number: 8 71810 00294 8

Limited Edition: 1332 of 2000


Comments: Clone commander 5052, also known as Bly, was the leader of the Star Corps of clone troopers assigned to Jedi General Aayla Secura. He served with her on the exotic world of Felucia when he received Order 66. The executive command, originating from the Supreme Chancellor on Coruscant, identified Secura as a traitorous enemy of the state. Demonstrating his unerring loyalty to the Republic, Bly and his troopers raised their rifles and opened fire on their commanding officer, coldly killing the unsuspecting Jedi.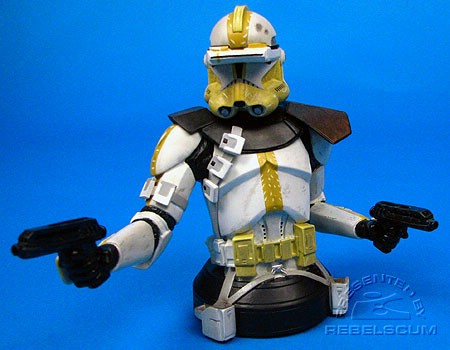 Commander Bly searches for the traitorous Jedi!
Points of Interest:
This mini-bust of Commander Bly was available exclusively at Forbidden Planet in the UK.
Photography by Dan Curto

Back To Celebration Europe