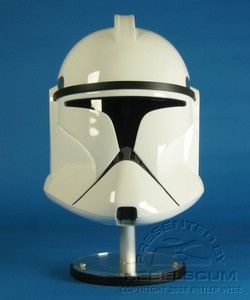 CLONE TROOPER HELMET
Source:
Attack of the Clones
Year:
2008
Assortment:
Prop Replicas
Retail:
$429
Limited Edition:
1000
Item Number:
01081102
UPC Number:
8 44818 00003 2
Accessories:
• Fiberglass Construction
• Fully Lined Interior
• LED In Back Of "Mohawk"
• Display Stand
• Numbered Plaque
• Metal Plaque Stand
• COA
• eFX Stickers
Points of Interest:
eFX's second helmet has arrived. With packing and included parts similar to their
Stormtrooper helmet
, I'll pass over mentioning them again.
This helmet is HEAVY. Weighing in at 4.8 lbs, it's easily the heaviest trooper helmet I've ever seen. Even the MR clone trooper helmet doesn't even come close at 3.4 lbs. It makes the helmet very substantial to feel and hold which is nice for display, but I doubt you'd want to troop in it.
Overall, the finish is spectacular except that but this helmet did arrive with a couple of problems you can see in the detail photos. One, the tip of the "mohawk" where it's lit is really poorly finished. There are all kinds of problems. Until I see other helmets, I can't tell if it's just mine, though I anticipate all will have this issue. The other problem is likely related to just this helmet. On its right side there is a pretty bad chip in the paint at the end of the brow that has just been painted over and is something that would cause a return of the helmet to eFX. It's unfortunate, but if nothing else, this goes to prove eFX is not opening these helmet before they send them for review.
The "mohawk" light is a nice touch, and it's a good thing eFX put it on a long wire because I'll be letting the battery box hang down inside the helmet so I can easily turn it on and off with its switch. If you were to wear the helmet, the battery pack goes in a handy pocket right up inside the "mohawk". I like that it uses AAA batteries as they will likely last a very long time powering the LED.
On-sale date hasn't been set, but it's probably in October, or early November.
• On-Sale date TBD
• Review & Photography by Philip Wise

Back To eFX Collectibles