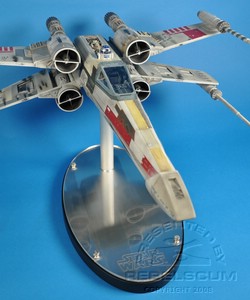 X-WING STARFIGHTER
(Prototype)
Source:
A New Hope
Year:
2009
Assortment:
Prop Replicas
Retail:
$1,199
Limited Edition:
1000
Item Number:
01082001
UPC Number:
8 44818 00004 9
Accessories:
• Miniature Luke Skywalker (sculpted by Gentle Giant)
• Display Stand
• Numbered Plaque
• Metal Plaque Stand
• Expanded Prop Story
• Power Supply
• COA
• eFX Stickers
• Power Supply
Points of Interest:
NOTE: This was an almost final prototype so there are some footnotes to it. The cockpit canopy isn't final and doesn't fit yet. There was some blue paint on the wings to locate paint masks that will not be on the final piece of course. There are some panel lines missing. The Luke pilot figure was at Lucasfilm for approval. Final packaging and included items such as the plaque were not provided for review but will be similar to those on the helmets.
While I've been quite happy to have the Icons X-Wing in my collection, this one raises the bar in several areas. Right off the bat, the paint is just plain better detailed and matches reference photos I have handy here very nicely. Every detail on the vehicle is reproduced with crisp lines and finishes.
Not that I think anybody will display it with the wings collapsed, they do arrive flat together and separate to form the X-Wing pattern with a very nicely designed piece of engineering and is a cool upgrade. The illuminated instruments in the cockpit, R2-D2 light and engine glows are a really nice touch. All are bright enough to be seen in a normally illuminated room.
The stand is similar to the others before this, and as you can tell there's no cover for the piece, nor any way to just add a cover to a base. I like covers myself, even at a pretty high price if necessary, so I miss it, but understand many would rather save the cost.
I'm delighted we as fans and collectors still have access to this kind of fantastic work thanks to eFX. This is a terrific piece and I can't wait to plug it in and show it off in my collection!
• Pre-Order date December 11, 2008 (To Be Finalized)
• Review & Photography by Philip Wise

Back To eFX Collectibles