FIGRIN D'AN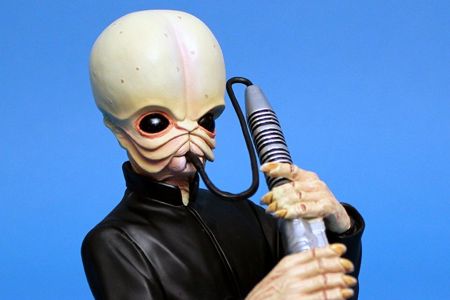 Collectible Mini Bust
Figrin D'an was the leader of an intergalactic band of alien Biths known as The Modal Nodes (commonly known as the Cantina Band). From the Mos Eisley cantina to the throne room of Jabba's Palace, this band of Bith musicians have been the entertainment for many rough and tumble bars across the galaxy.

Product Information
Year:
2011
Original Retail:
$59.99
Edition Size:
1,650
Item Number:
80039
UPC Number:
8 71810 00811 7
<! remove list below if no points of interest -->
Points of Interest
This 1/6th scale mini-bust is Cast in high quality poly-stone with exacting details, complete with Figrin's Kloo Horn instrument. A limited edition collectible that is hand numbered, with a matching certificate of authenticity.
Photography by Chris Wyman