An Interview with Bernard Loomis
former president of Kenner
by d. martin myatt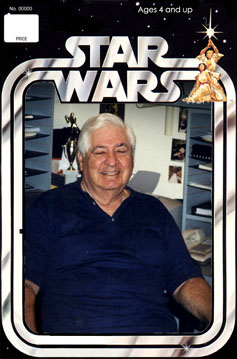 The name Bernard Loomis may not be the first to come to mind when one thinks about the amazing success of Star Wars collectibles, but it should be. Mr. Loomis helped start what has for many blossomed into a lifestyle.
From the American Toy Institute 1992 Hall of Fame:
"During a career spanning five decades, Bernard Loomis served as president of Kenner, group vice president of General Mills, partner in a joint venture with Hasbro, consultant to Tyco and head of his own toy design company. He brought to market an incomparable portfolio of blockbusters, once selling empty boxes at Christmas with the promise of a hit toy to be delivered later. An extraordinary marketer, he proved that breaking rules was often the best rule of all."
Mr. Loomis's protracted career in the toy industry enables him to not only speak on the origins of our favorite toy line, but give some interesting insights into the toy licensing business in general.

How difficult was it to work with Lucasfilm back in the day? Were they strict and secretive, or open to new ideas and relaxed? How involved were they in the process of creating a figure?

It was never particularly "difficult" to work with Lucasfilm but you have to understand the separate roles that each of us played. We never "designed" anything for the Star Wars films. None of the characters, hardware, or weapons were created by anyone but George [Lucas] and his people. Our job was to execute the items, and add the most we could in children's play value to each product; Package them, merchandise them and advertise them.

It was also [our concern] to be certain that quality and safety standards were beyond question and they always were. I do believe that George gives us the highest marks on all of this. All of our executions were subject to Lucas approval but I am not aware of any problems on this score. Whatever problems we had with George came after the fact and related to the original contract, which was at a lower-than-might-have-been royalty rate, covered all crafts, games and toys, included future pictures and the right of approval of all other licenses.

To understand this you have to put it in the context of the mid 1970's. Prior to Star Wars, with only minor exceptions, movies were not a sound basis for toy or any other kind of licensing. Movies would come and go too quickly for sustained sales to build.

Prior to Star Wars the general feeling about a license was that the royalty was a substitute for advertising and when you thought about licensing, it was a lot of Disney and a little bit of Schultz (Snoopy) with the licensor licensing items and not lines.

We changed the licensing business first with the Six Million Dollar Man, then with Star Wars, and ultimately with Strawberry Shortcake and Care Bears where we were both licensee and licensor in a partnership with American Greetings and integrated the total project including production of TV specials and a Motion Picture.

When I first saw the Six Million Dollar Man in the early seventies, it was already on the air. I contacted Universal, went to California, and said "I want a world wide toy exclusive on the Six Million Dollar Man". Made the deal for the General Mills Group and we were off a running - but that's another story.

How did the Star Wars license come about?

I had one of the few subscriptions in Cincinnati, Ohio to the Daily Hollywood Reporter, and one day I saw an item about a new picture from Twentieth Century Fox called Star Wars and I called in one of my marketing people, Craig Stokely, and asked him to find out about it. Some time later he reported back and we got some very limited information that [the film] included robots - and I liked the idea.

We didn't need it though, we had the leading boys' toy in the world, the Six Million Dollar Man and we had a deal on a new TV series, The Man From Atlantis, which was being called a sure-fire hit but I liked the name Star Wars, I liked the robots, and I said "The picture will come and go, and the following year we'll take a shot at space with Star Wars".

Well, the picture came but it wouldn't go and the world went crazy. Where are the toys? My former associate Ray Wagner, now President of Mattel, and I both remembered the relatively recent failure of a Mattel space line call Matt Mason; he remembered it more strongly than I did.

Mark Pevers, [the person] in charge of licensing for Fox, came to see me in Cincinnati and I expressed the terms on which we would license Star Wars, and ultimately with no one else
"George says, "if you do Star Wars, you can't go Close Encounters." That was the first time we heard George's name.
interested, he came back and agreed to the terms we offered. The royalty rate was 5% and would go to 6% if Star Wars became a TV series. The following year we volunteered the increase to 6%. Mark added one condition: "George says, "if you do Star Wars, you can't go Close Encounters." That was the first time we heard George's name.

When someone tells me I can't have something, I want to know why. We made a date to sign the Star Wars deal at the Century Plaza Hotel In Los Angeles, a few minutes away from the Fox Studio, on a Saturday morning and out of curiosity made a date for first thing in the morning earlier in the week to go to Columbia and meet Julia Phillips the Producer of Close Encounters and the Director Steven Spielberg.

Steven told us the story of Close Encounters and when he was through I remarked that it sounded like a great movie but it didn't seem "toyetic" to which he said " What is "toyetic" and I said "The property of being expressible in playable figures and hardware" To which he said "well it's not Star Wars" I asked him what he knew about Star Wars and he said he had seen it and agreed that it was quite "toyetic' he also said that he wasn't too upset, "George was his best friend, and they had traded pieces" In other words George owned a piece of Steven's share of Close Encounters and Steven a piece of Star Wars, which I believe for quite a while were the number one and number three grossing motion pictures of all times. When the toys went into production George had us send one of each new toy directly to Steven.

You were responsible for the Star Wars early bird set, weren't you? Where did the idea come from?

One of the two lonesome decisions I ever made… Baby Alive was the other one. I still don't understand why people had such difficulty seeing its merit from the beginning. First you have to understand the gift giving reality of Christmas. To an enormous number of people nothing is more important than the giving of gifts at Christmas time, and at the top of that list is giving to children, but how many times have you heard "they are through playing with their toys before the day is over?"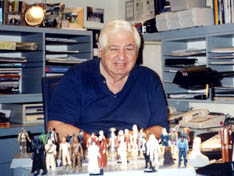 Second, television advertising of toys has created a situation where the "normal" pricing of items is out the window. "Normal" pricing of an item was if a retailer bought an item for $5 he sold it for $10 and that is still the rule if what you are buying is not exactly the same item from one store to another. Mattel's Chatty Cathy started it all in the early sixties. Mattel's price to it's direct customers was $9 and the original TV commercial properly said it was an $18 doll. Fortunately, but confusingly, for the consumer the actual price to the consumer was more likely to be from $9.99 to $16.99 and the FTC ruled that we couldn't put a price on a TV Commercial unless it was the price generally asked for by the retailer. So the consumer had no idea of what an item cost until she saw it in a retailer's ad… the child never knew or cared much.
"Here we were with an extraordinary demand and no product to fill it with."
Here we were with an extraordinary demand and no product to fill it with. The normal time period from design to production of a properly designed, engineered, tooled and finally in production toy line is eighteen months to two years. The market was being flooded with unsafe plastic tubes that were supposed to be light sabers and I had to do something about it.
I made a very specific contract with the parents, not the child, buy this package now and the child would have a pretty picture of all the Stars Wars Characters for Christmas and, by May of next year would be among the first to receive the very first Star Wars figures directly from Kenner---May was certain, we actually completed shipment by March, and I had seeded America. I could picture kids all across the country rushing off to school and saying "Look what I got!" We limited sales to 500,000 units and the 1,500,000 figures in the Gift Certificate Program led to the sale of 40,000,000 figures the following year.

Among all the bright people who tried to talk me out of it was the Head of our Ad Agency that had the Star Wars account. In the twenty-five years since it happened many people have told me what a great idea it was.

In 1992 you were inducted into the Toy Industry Hall of Fame?

My Plaque says in part "He brought to market an incomparable portfolio of blockbusters, once selling empty boxes at Christmas with the promise of a hit toy to be delivered later. An extraordinary marketer, he proved that breaking rules was often the best rule of all."

You were once (hopefully accurately) quoted as saying: "The trouble with research is that it tells you what people were thinking about yesterday, not tomorrow. It's like driving a car using a rearview mirror." What are you thoughts on it now?

I am not opposed to research as such I am opposed to using it as a way to avoid making a decision. Research will tell you what happened. Often at the expense of creative thinking about what you want to happen and how to make it happen. "It's like driving a car using the rearview mirror" is a reasonably accurate quote.

When I first showed the Care Bears to Kenner I was no longer running the Group and Kenner didn't have to do what I told them. I projected sales of expensive plush bears in the million plus range. A Procter and Gamble trained Marketing Manager, who in later years became the senior marketing executive at Hasbro, responded to my presentation by saying it couldn't be done and when I asked why, she said "Because it's never been done". Hopefully her career was enhanced by discovering that things can often be done that have never been done before. Don't get the wrong idea, I also did Duke the Wonder Dog and Steve Scout - I had a great batting average but I struck out now and then. You stay out of trouble by being realistic about what is really happening when things go wrong.

Why didn't the Star Wars Holiday Special Wookiee family ever get released? They seemed like a sure-fire seller.

I seem to remember play tests in which the kids really didn't like them as part of their Star Wars world, perhaps and I don't think I ever expressed it before, soft and fuzzy is not Star Wars.

Have you seen the new toys? What is your opinion on the modern Star Wars toy line?

I certainly don't know the new toys as well as you and your fellow collectors do but I would guess they are equal in execution to the past. As I said earlier, the Toy manufacturer has no real claim on the creativity, that part is all George Lucas and his people.

The problem of the moment has been a lack of control in the number and quantities and prices of what's in the market place - in my years of introducing and managing the property we all shared a belief that "Star Wars was Forever". I'm not so sure enough people at Lucas or Fox or Hasbro are as committed to that as we all once were.

What do you think of the adult toy collecting subculture out there? Many collectors, myself excluded, don't even remove the figures from the packages.

At one time in my career Lionel [toy trains] was part of my concern and at that time I became convinced that Lionel was primarily a Collector Business and not a Toy Business at all. The Lionel gauge as opposed to H O made it too expensive to deliver multiple car train sets and accessories to promote the dwindling interest on kids parts in playing with trains---but there was a Collector market. We could make five or six thousand of a new release of an old engine at a ridiculously high price and they would be swallowed up. With most buyers believing it was immediately worth more than they paid for it. It's real and if you never try to sell, you'll never be unhappy. There are many Lionel Collectors who actually operate vast layouts and generally they are people whom can readily afford it.

As for toy collectors, remember in addition to Star Wars, I was associated with Hot Wheels and Barbie too so I ought to understand the phenomenon better than most, but I don't. If the collecting becomes a real thing and generates involvement with people and kids and is a sustaining interest than it certainly is a plus, but if it's a matter of "some day it's going to be worth a lot of money" I hope every one gets lucky and sells when they are ahead.

In 1942 I went off to war and left behind the best collection of autographs of American League Baseball Players that any kid ever had, from Al Simmons to Zeke Bonura, from Lefty Grove to Lefty Gomez, from Babe Ruth to Lou Gehrig… When I came home after three years in the South Pacific, to our little apartment in the Bronx, the collection had disappeared.

My mother has been gone for many years and I've told the story about how she threw out my autograph collection many times, but I remembered enjoying the collecting and not really caring much about what it meant or didn't mean to the future.

I probably collected my last autograph around 1937 and am not certain that it hadn't disappeared before 1942, it's just a story I tell, but I did enjoy the collecting.

On that, it's a safe assumption to say you're not the only one...
A brief, albeit concise, retrospective on Bernard Loomis' career:
1958-1959: Samilson-Loomis. Partner
Samilson-Loomis was a manufacturer's representative firm that represented a number of small toy manufacturers in dealing with emerging new discount chains that were becoming important toy retailers; one was Toy's R Us opening it's fourth store in Washington D.C. Loomis worked with Toy's R Us in the development of a toy fishing set and an effective display rack. The manufacturer was New York Toy and Game.

"Our business was doing well but the opportunities to do anything really creative was limited and in early 1960 Mattel, a Californian company that had just done $18 million and was probably in the second [in the] ten toy companies on the basis of volume, came east looking to add a third person to their Marketing team…it turned out to be me."

1960-1970 Mattel: Field Sales Promotion Manager, National Sales Manager, Vice President Sales, Vice President Merchandising, Division Vice Pres. (Wheels and Wings (Hot Wheels))
Loomis was part of one of the most exciting and creative growth stories in the history of American Industry. Mattel was the first $100 million toy company and then the first $200 million toy company. In the mid sixties Mattel became the largest toy company and by the end of the sixties was four or five times bigger then number two.

"I grew up with Barbie and in the late sixties Mattel Divisionalized and I took Hot Wheels to market. At the end of the sixties Mattel, like too many other Public Companies, fell in love with the price of it's stock and pushed the numbers too hard. There were strong differences of opinion at the top management level of the company and I became a 'consultant', still within the company.

At the same time General Mills had been busy buying toy companies Parker Brothers, MPC Model Kits, Craftmaster Paint by Number, Play Doh, Lionel Trains, and Kenner in the U.S. as well as companies in England, France, Germany, Holland, Belgium, Canada, Mexico and Australia.

In addition to my continuing consultant role at Mattel I had also been accepted into a PHD program at the UCLA Graduate School of Business. General Mills thought I'd be happier as President of Kenner - it took them a few months to convince me, but they did - and we were off to Cincinnati."

1970-1978 Kenner: President
1978-1981 General Mills: Group Vice President Toy Group (New York)
1981-1984 M A D (Marketing and Design Group Toy Group of General Mills) President (New York)
"During my Kenner/General Mills years I had the best record in the history of the toy industry: Snoopy Tooth Brush, Baby Alive, SSP, TTP, The Six Million Dollar Man, Play-Doh Barber Shop, The Tree House, The Bionic Woman, Star Wars, Strawberry Shortcake, Care Bears Sometime in the late seventies The General Mills Group fueled by Kenner toys passed Mattel in volume and profit and I had now been part of the World's Largest Toy Company when it became the world's largest toy company for the second time. As a group vice president, my life was full of people problems and number problems without enough time to play with toys, which I did best and enjoyed the most, so I made a deal with the chairman of General Mills that after getting the group straightened out I would start a Design and Development Company within the group, and so MAD was born - and created a partnership with American Greetings that parented the huge success of Strawberry Shortcake and then the Care Bears, with MAD as a partner in all of the licensing, not just toys."

1984-1988 G L A D Joint Venture Design Company in partnership with Hasbro: President (New York)
Loomis functioned as a general consultant to Hasbro and although his role was not a major one he did have the satisfaction of being associated for the third time with the world's largest toy company when it became the world's largest toy company as Hasbro became Number One. Loomis developed a marginally successful game with Milton Bradley called Stage Two which reportedly still has a modest cult following and licensed a successful line called Super Dough led by the Flower Making Basket to Tyco.

1988-present Bernard Loomis Inc. President-Semi retirement activity. (New York/Florida)
"In association with my daughter Merry, and two other young talented people (Chris Ericcson and Vinny Baera) we did a successful doll line called the Quints with Tyco."
Rebelscum would like to give a big thanks to
Mr. Heiko Ramsey for making this interview possible