SPECIAL GIVEAWAYS
MICRO MACHINES SPECIAL EDITION MINI THREE PACK Initially, this package was given out to the lucky few (300-400) that attended the Los Angeles premiere of the Star Wars Special Edition on January 18th, 1997. It was also given away in North America to the first 100 people at many of the local first evening showing of Star Wars Special Edition on January 31st, 1997. It is my understanding that there were 150,000 given away. Galoob gave them away at the 1997 International Toy Fair in New York City and also on their web page. As to the size of it, at 4" long, the packaging is very small and the ships inside are really tiny.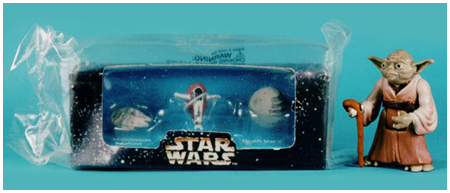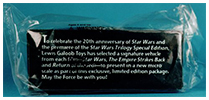 MICRO MACHINES STAR WARS TRILOGY LIMITED EDITION TOY OFFER
Collectors that pre-ordered the individual copies of the 1996 Star Wars THX trilogy VHS video cassettes were given the opportunity to send away for one of six bronze Micro Machine ships, one for each VHS cassette pre-ordered. The ships, which cost $3.95 each, included the X-Wing Fighter, Millennium Falcon, Star Destroyer, AT-AT, TIE Fighter, and Snow Speeder, and they were sent in individually sealed branded baggies.



AUSTRALIAN MICRO MACHINES STAR WARS TRILOGY LIMITED EDITION TOY OFFER CERTIFICATES OF AUTHENTICITY
These are scans of three Certificates Of Authenticity that accompanied the mail-away vehicles customers in Australia were offered with purchase of one of the six Special Edition tapes. There was a different vehicle offered with each of the six tapes. Three movies, regular and widescreen versions make up the six. With each movie purchase, you also got one toy offer certificate to mail in. Thanks to perplex for the scans of his certificates.