Packaging
Back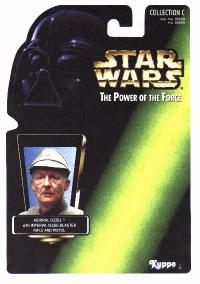 After you've made your custom, you can decide to keep it loose, or even display it in its very own package!

If you're opening figures to use as fodder, try to keep the card and bubbles intact. Slide a knife under the bubble to separate it from the cardboard backing. After cleaning up the bubble with soapy water to remove the paper and glue, set it and the card aside. You may want to use it later for your custom carded figures. You may also want to invest in a product like "Goo Gone" to remove the glue from both the bubble and the plastic J hook at the top of the card.

The card can be used again by the use of card templates that you can revise on your home computer. Or you can even design your own templates! Once you download the background, you can add text, a new image and viola! You have a card for your custom! Print it out on full-sheet label paper and affix to your card. Or, you can print out on high quality glossy paper and use a spray adhesive to attach it to the card. Then you can attach the figure, accessory and bubble using a high-quality glue that dries transparent.

There are lots of card templates on the Internet. A great source of Star Wars card templates can be found at www.ffurg.com. However, please give credit where credit is due. If you download someone else's template, make sure you get their permission. Never, never try to pass off a carded custom as the real thing...it's more fun to keep these in your own collection because you'll appreciate all the hard work it took to make it!

Customizers have even taken these basic techniques to make boxes for thier custom "cinema scenes" of multiple custom figures. A good card stock, clear plastic and lots of experimentation will yield a great looking package!