CLONE EMPEROR PALPATINE


Source: Expanded Universe:
(Dark Empire Comic Books)



Year: 1998

Collection: 2

Retail: $5.99

Assortment: Basic Figures

Assortment Number: 69605/69886

UPC Number: 7628169886

Packaging Variations:

None


Weapons and Accessories:

3-D Play Scene background
Lightsaber
Plastic Cloak
Detachable Left Hand


Card Bio: Six years after his death, Emperor Palpatine returns in a young, cloned body.


Comments: Six years after the destruction of the second Death Star, the galaxy is thrust into turmoil. A reborn evil threatens to enslave the galaxy, and the Republic's closest friend - Luke Skywalker - may become their greatest enemy. With the power to transfer his consciousness to genetic clones, a younger, stronger Emperor Palpatine is perilously close to gaining total control of the galaxy forever.

Point of Interest: The Clone Emperor had died many times and his consciousness transferred into a new clone body several times of the years, until he tried to merge his spirit with Anakin Solo. He failed and was lost forever.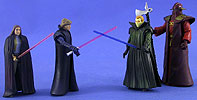 Back To Expanded Universe