DARK TROOPER


Source: Expanded Universe:
(Dark Forces Video Game)



Year: 1998

Collection: 2

Retail: $5.99

Assortment: Basic Figures

Assortment Number: 69605/69894

UPC Number: 7628169894

Packaging Variations:

None


Weapons and Accessories:

3-D Play Scene background
Heavy Blaster
Jetpack


Card Bio: The ultimate incarnation for the secret Imperial project called, Dark Trooper.


Comments: It is a period of Civil War. The Rebel Alliance struggles to free the galaxy from the clutches of the evil Galactic Empire. Discovering that Imperial forces have begun developing a new type of stormtrooper, the Rebels call on mercenary Kyle Katarn. His mission: seek out and destroy the secret Imperial project called Dark Trooper. Known as phase III, this most powerful of the Dark Troopers is actually a figure known as General Mohc. Practically unstoppable, he represents the greatest threat to the success of the Rebel Alliance.

Points of Interest:
There are three different phases to the Dark Trooper project, this being the Phase Three model.
The Dark Trooper was featured in an issue of the Star Wars Tales comic series.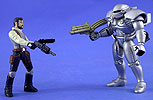 Back To Expanded Universe