IMPERIAL SENTINEL


Source: Expanded Universe:
(Dark Empire Comic Books)



Year: 1998

Collection: 2

Retail: $5.99

Assortment: Basic Figures

Assortment Number: 69605/69887

UPC Number: 7628169887

Packaging Variations:

None


Weapons and Accessories:

3-D Play Scene background
Battle Axe
Plastic Cloak


Card Bio: Imperial Sentinels guard the Emperor's chambers.


Comments: Six years after the destruction of the second Death Star, the galaxy is thrust into turmoil. A reborn evil threatens to enslave the galaxy, and the Republic's closest friend - Luke Skywalker - may become their greatest enemy. At the doors of the evil Emperor's palace, giant Imperial Sentinels, twice the size and power of other Imperial guards, await their prisoner - the Jedi Master, Luke Skywalker.

Point of Interest: An unused design for the Emperor's Royal Guard, The Imperial Sentinel was almost made as a vintage figure named Altha Prime, in a series of toys designed to continue after the Classic Trilogy. Altha Prime and his Clone Warriors would have been a new challenge for our heroes, but the line was never developed past conceptual designs.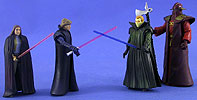 Back To Expanded Universe