KYLE KATARN


Source: Expanded Universe:
(Dark Forces Video Game)



Year: 1998

Collection: 2

Retail: $5.99

Assortment: Basic Figures

Assortment Number: 69605/69893

UPC Number: 7628169893

Packaging Variations:

None


Weapons and Accessories:

3-D Play Scene background
Blaster
Grenade Gun


Card Bio: The one man in the galaxy capable of destroying the Dark Trooper.


Comments: It is a period of civil war. The Rebel Alliance struggles to free the galaxy from the clutches of the evil Galactic Empire. Discovering that Imperial forces have begun developing a new type of stormtrooper, the Rebels call on mercenary Kyle Katarn. His mission: seek out and destroy the secret Imperial project called Dark Trooper. A rogue mercenary loyal to no one, Kyle Katarn has accepted a near-impossible mission to destroy the Empire's ability to develop an army of unstoppable stormtroopers known as Dark Troopers.

Point of Interest: In the original Dark Forces game, Kyle did not have a beard, despite what is shown on the packaging. He did wear one in the second game, Jedi Knight, so this figure is a mixture of the two appearances. Kyle also appeard in a third game called Jedi Outcast.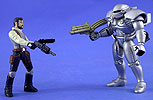 Back To Expanded Universe