PRINCESS LEIA


Source: Expanded Universe:
(Dark Empire Comic Books)



Year: 1998

Collection: 2

Retail: $5.99

Assortment: Basic Figures

Assortment Number: 69605/69884

UPC Number: 7628169884

Packaging Variations:

None


Weapons and Accessories:

3-D Play Scene background
Lightsaber
Blaster
Plastic Cloak


Card Bio: Leia seeks to free her brother Luke from the dark side.


Comments: Six years after the destruction of the second Death Star, the galaxy is thrust into turmoil. A reborn evil threatens to enslave the galaxy, and the Republic's closest friend - Luke Skywalker - may become their greatest enemy. Hoping to free her brother Luke from the evil of the dark side, Jedi Leia prepares to match her power against that of a reborn Emperor. Boarding his colossal warship, Leia is overwhelmed by the oppression of the dark side.

Point of Interest: By the time of Dark Empire, Princess Leia had married Han Solo and gave birth to twins. She gave birth to a third child during this series.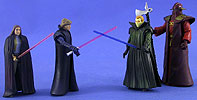 Back To Expanded Universe