LUKE SKYWALKER


Source: Expanded Universe:
(Dark Empire Comic Books)



Year: 1998

Collection: 2

Retail: $5.99

Assortment: Basic Figures

Assortment Number: 69605/69883

UPC Number: 7628169883

Packaging Variations:

None


Weapons and Accessories:

3-D Play Scene background
Lightsaber
Blaster
Plastic Cloak
Detachable Right Hand


Card Bio: Luke Skywalker seeks to learn the Emperor's darkest secrets.


Comments: Six years after the destruction of the second Death Star, the galaxy is thrust into turmoil. A reborn evil threatens to enslave the galaxy, and the Republic's closest friend - Luke Skywalker - may become their greatest enemy. Freed from their detention cell, a group of rebels begin their escape from the Imperial planet Byss. But the sudden appearance of Luke Skywalker, Jedi Master, could mean unfortunate news for the Rebels. Has Luke fallen under the spell of the dark side?

Point of Interest: During the Dark Empire comic book series, Luke Skywalker wore an outfit reminiscent of Darth Vader's, without the cybernetics or armor.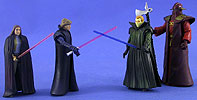 Back To Expanded Universe