MARA JADE


Source: Expanded Universe:
(Heir to the Empire Novel and Comics)



Year: 1998

Collection: 2

Retail: $5.99

Assortment: Basic Figures

Assortment Number: 69605/69891

UPC Number: 7628169891

Packaging Variations:

None


Weapons and Accessories:

3-D Play Scene background
Lightsaber
Blaster


Card Bio: Mara Jade, once the Emperor's assassin, becomes an ally of Luke Skywalker.


Comments: Five years after the Battle of Endor, the Rebel Alliance has driven the evil Empire into a distant corner of the galaxy. But a new danger has arisen: the last of the Emperor's warlords has devised a battle plan that could destroy the New Republic. Before the death of Palpatine, Mara Jade was the Emperor's right hand assassin. Five years later and now a successful smuggler, the last thing Mara expected was to stumble upon her former arch-enemy - Luke Skywalker.

Point of Interest: Mara Jade has appeared in virtually every Expanded Universe medium; books, comics, games, cards, toys...not bad for a character that never appeared in a Star Wars film.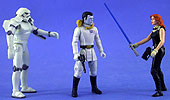 Back To Expanded Universe