SPACETROOPER


Source: Expanded Universe:
(Heir to the Empire Novel and Comics)



Year: 1998

Collection: 2

Retail: $5.99

Assortment: Basic Figures

Assortment Number: 69605/69892

UPC Number: 7628169892

Packaging Variations:

None


Weapons and Accessories:

3-D Play Scene background
Movable Jetpack
Flip-Out Blaster


Card Bio: Spacetrooper -- a stormtrooper in zero-gee armor.


Comments: Five years after the Battle of Endor, the Rebel Alliance has driven the evil Empire into a distant corner of the galaxy. But a new danger has arisen: the last of the Emperor's warlords has devised a battle plan that could destroy the New Republic. The ability of spacetroopers to operate exclusively in space made them a valuable asset to the warlord, Grand Admiral Thrawn. These heavily armed stormtroopers wear full-body armor and have equipment that enables them to function as personal space-capable assault vehicles.

Point of Interest: The Spacetrooper armor has undergone many changes in its various publications over the years. The version this figure is based on was unique to the comic book series.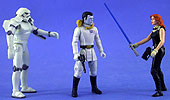 Back To Expanded Universe