POWER RACING SPEEDER BIKE
with Scout Trooper


Source: (Return of the Jedi)



Year: 1997

Retail: $9.99

Assortment: Vehicles

Assortment Number: 60588

UPC Number: 7628160588

Packaging Variations:

None


Weapons and Accessories:

"T" handle Rip Stick
Pilot Height: 1.8 Meters average
Status: Imperial Scout Stormtrooper
Classification: Human
Affiliation: Galactic empire
Weapon of Choice: Imperial Issue Blaster Pistol
Vehicle of Choice: Aratech 74-Z Military Speeder Bike
Vehicle Length: 3 meters
Speed: 500+ km per hour


Comments: Hold vehicle at the back, behind the wheel. Insert "T" handle Rip Stick into slot on either side of wheel until it stops...pull stick out quickly to rev up wheel. Immediately set the vehicle down with a slight push forward on a smooth, flat surface. Watch your vehicle accelerate! Race in areas clear of furniture and other objects. The faster you pull the "T" handle Rip Stick, the faster it will go. Race against your friends or run over ramps.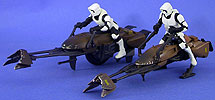 Point of Interest: Another Speeder Bike with a Biker Scout was released as a Imperial Speeder Bike vehicle.

Back To Vehicles