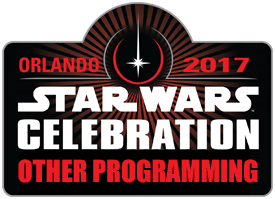 Return to Survival Guide
There's much more to do then then attend panels, or stand in line for autographs! Here's a list of some of the non-scheduled programming that's happening during the convention.
NERD NITE SPEED DATING
The smart-yet-fun folks of Nerd Nite are bringing Speed Dating back to Star Wars Celebration! Register online for one of the special Celebration sessions of 15 three-minute dates so youíll no longer have to look for love in a galaxy far far away. If the Rebels can blow up the Death Star in 11 minutes, letís see if you can make a love connection in only three.
RANCHO OBI-WAN EXPERIENCE
The 900-square-foot Rancho exhibit will also showcase memorabilia from three previous Star Wars anniversaries: the 10th, which was marked by the first official Star Wars convention in Los Angeles; the 20th, which brought the original trilogy back to movie theaters in an extraordinarily successful return; and the 30th, which celebrated the anniversary with the Star Wars Spectacular on January 1, 2007 at the Tournament of Roses Parade in Pasadena, California.
TATOO PAVILION
The following is a list of the tattoo artists appearing at Celebration Orlando 2017. Brought together by Rebelscum's Shane Turgeon, the author of The Force in the Flesh, and Marc Draven, creator of Ink Fusion, once again they'll be bringing you the biggest and best Celebration tattoo experience to date. With many renowned tattoo artists from points around the world, the expanded Star Wars Tattoo Pavilion will be the place to see and be seen in the Celebration Experience Exhibit Hall. For more information on these artists, visit starwarscelebration.com.

Adam Golden (TAT22)
Adam Guy Hays (TAT30)
Bath St Tattoo Collective (TAT11)
Betsy Butler Tattoos (TAT39)
Black Anchor Collective (TAT27)
Black Label Tattoo Company (TAT4)
Black Rose Tattoo (TAT23)
Bogle Tattoo (TAT13)
Cale Turpen (TAT45)
Chris Sparks (TAT37)
Custom Art by Jeremiah (TAT29)
Dan Stone (TAT10)
Dillon Eaves (TAT38)
DJ Minor (TAT16)
Fud Ruckus (TAT35)
Gearhead Tattoo (TAT41)
Ian Simon (TAT32)
Ink by Saga (TAT25)
Jeffrey wortham (TAT33)
Jeron Kenens-Trifecta Tattooworks (TAT7)
Jersey Jay Wymbs - Pogue Mahone Tattoo Company (TAT34)
Jolie Rogue Tattoo - Clara Sinclair (TAT20)
Jolie Rogue Tattoo - Matt Difa (TAT19)
Kate Green (TAT15)
Lauren "Jerzy" Milner (TAT3)
LEVIATHAN (TAT1)
Luis Valdovinos (TAT21)
Matthew McKelvey (TAT24)
Mike Bianco (TAT46)
Nate Fierro Tattoos (TAT17)
Nick Puma (TAT6)
Piero Tat-Twin (TAT28)
Pony Lawson (TAT5)
RLMG Tattoos (TAT31)
Shannon Ritchie (TAT2)
Studio 85 Tattoo (TAT47)
Studio Evolve (TAT40)
Tattoos by TthomasEsquire (Thomas Kersnowsky) (TAT14)
Taylor M. Heald (TAT36)
Theresa Gordon-Wade at Epona Art and Tattoo (TAT12)
Til Death Denver (TAT26)
Tommy Giblin (TAT9)
Tori Robinson (TAT8)
Tymeless Tattoo - Joshua Heckert (TAT18)

Return to Survival Guide