REPUBLIC ASSAULT SUBMARINE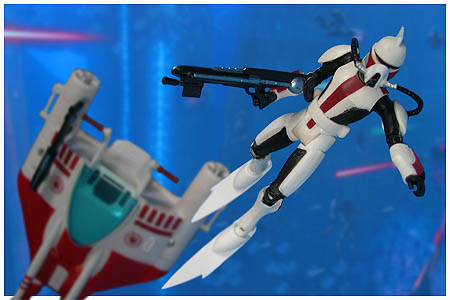 with Scuba Clone Trooper
The Class 1 Vehicles range, or "mini-rigs" as collectors from the vintage era like to refer to them, has seen a fairly even spread of vehicles that have been either movie-specific or inspired by the Saga, and wave 2 for 2012 was no different. Officially revealed at New York Toy Fair 2012 in Hasbro's presentation, the two new vehicles, both part of The Clone Wars line, were the Attack Recon Fighter with Anakin Skywalker, and the Republic Assault Submarine with Scuba Clone Trooper, the latter of which is essentially the OSM Devilfish sub from the first story arc of Season 4 of The Clone Wars. The initial assortment was rounded out with the Naboo Royal Fighter with Obi-Wan Kenobi and Sith Speeder with Darth Maul, and reached retail in April 2012.

Product Information
Manufacturer:
Hasbro
Year:
2012
Original Retail:
$16.99
Item Number:
37017/36576
UPC Number:
6 53569 68405 3
What's In The Box?
Scuba Clone Trooper Figure
2x Flippers
Backpack w/ mask
2x Rifles
Republic Assault Submarine (2 pieces)
2x Missiles
Galactic Battle Game Card
1 of 4 Randomly Packed Bronze display Stands
Black Six-Sided Die
About This Set
Both the figure and the Vehicle are 100% new.
The display stand included with this set is bronze and not tan like the rest of the first quarter Movie Heroes toys.
Text by Adam Lamping & D. Martin Myatt
Photography by D. Martin Myatt