HAN SOLO
(Exclusive Edition)


Source: (A New Hope)

Year: 2005

Number: 71181

Assortment:
1:4 Scale Figures

Retail: $299

Dimensions:
18"H

Limited Edition No.: 250

Weapons and Accessories:
Medal of Yavin
Blaster
Commlink
Base
Comments: A former smuggler and space pirate, Han Solo is the rugged, devil-may-care captain of the Millennium Falcon. Fast thinking and quick with a blaster, Han is noted for his narrow escapes from dangerous situations, many of which are the result of his own brash and arrogant behavior. His skill with a blaster and uncanny luck are equaled only by his extraordinary piloting abilities. After winning the Falcon from fellow gambler and friend Lando Calrissian, Han extensively modified his ship to become one of the fastest space vessels in the galaxy. For this reason, he is hired to transport Jedi Knight Obi-Wan Kenobi and young Luke Skywalker on a mission that will forever alter Han's roguish course. After helping to rescue the Rebel leader Princess Leia from the clutches of the evil Empire, the often charming yet insufferable pilot wins the heart of the beautiful Princess, and in her cause, finds a focus for his flyboy talents. No longer a reckless vagrant, Han Solo is a general in the Rebel Alliance and is recognized as one of its most deserving and courageous heroes.

Points of Interest:

The Sideshow Collectibles ? Scale Han Solo figure is fully authentic to Star Wars: A New Hope, from the Harrison Ford likeness to the Millennium Falcon interior grating inspired base. Every detail of Han's costume and each of his accessories has been expertly captured in ? scale. This dashing scoundrel is sure to charm his way to a prized spot in your collection.
Limited Edition of 250 pcs, including all-new base, all-new shirt, and the Medal of Yavin.
Photography by D. Martin Myatt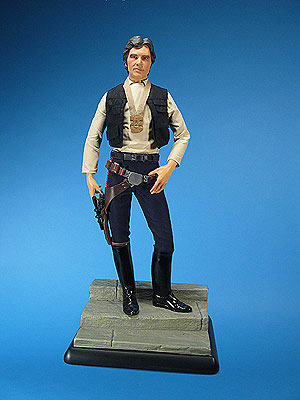 Roll over image above to take Han for a spin!!

Back To Sideshow Collectibles