LUKE SKYWALKER


Source: (A New Hope)

Year: 2005

Number: 7116

Assortment:
1:4 Scale Figures

Retail: $250

Dimensions:
17"H x 6.5"W x 9.5"D

Limited Edition No.: 827 of 2,500

Weapons and Accessories:
Macrobinoculars
Belt
Tunic
Base
Comments: Before he was the last of the Jedi Knights, young Luke Skywalker was a kid with dreams of adventure and excitement. Standing on a sandy bluff overlooking his adopted homeworld of Tatooine, young Skywalker looks off into the setting suns with dreams of a better tomorrow, which unbeknownst to him includes a bar full of aliens and the infiltration of the Empire's supreme weapon, the Death Star.

Points of Interest:
The 17" Luke Skywalker figure is the most film-accurate representation of the character ever produced. Sideshow's skilled artists have used their many talents (after studying reference from Lucasfilm's vast archives) in order to bring you a Luke Skywalker collectible that's more than a figure, it's a work of art. This museum quality mixed-media figure is composed of polystone, metal, and expertly tailored clothing, and captures the iconic moment where Luke stares off into the sunsets of Tatooine's twin suns, wondering how he might ever escape from the farm for adventures in the stars.
Photography by D. Martin Myatt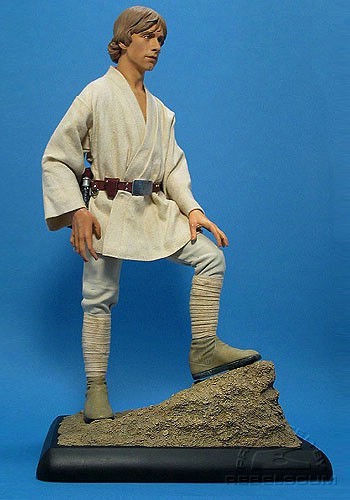 Roll over image above to take Luke for a spin!!

Back To Sideshow Collectibles