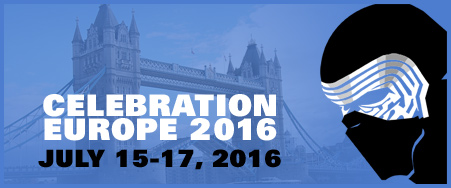 Edited by Adam Lamping
Back in London for the second time, the third Celebration Europe, while a smaller affair than its North American counterparts, still had a great deal to offer. Along with the excitement surrounding the release of
Rogue One
at the end of the year, the convention also provided fans with the chance to see the season three premiere of
Star Wars Rebels
, hear directly from the directors of not one, not two, but three future
Star Wars
movies, and also experience Lucasfilm's VR experience. With a much stripped-down crew this time, here are the galleries from the exhibitors and panels that the Rebelscum team were able to cover.
EXHIBITORS
Abrams and Chronicle Books




A wide variety of books were on display on the Abrams and Chronicle Books stand, including the "pocket-size" version of Star Wars Frames, the Topps Trading Card Series and a number of the Star Wars Art books.
AC Worldwide




Along with the C-3PO and Stormtrooper speakers that were part of their original Kickstarter project, AC Worldwide also debuted their Darth Vader bluetooth speaker.
Amerang




Products from the likes of Hot Toys, Sideshow Collectibles, Kotobukiya and Gentle Giant were among the items on display at Amerang's booth.
ANOVOS




On display at the ANOVOS booth were complete costumes and helmets from
The Force Awakens
along with helmets from the original trilogy.
De Agostini




Along with the original paint master of the Millennium Falcon that was used to create the
Build the Millennium Falcon
model, De Agostini also displayed examples of some of their other
Star Wars
titles including
The Helmet Collection
and
Build Your Own R2-D2.
Egmont Books




The Egmont Books booth featured many different types of books, including colouring and activity books, children's books and also the
The Force Awakens
storybook and novel as well as gigantic versions of the R2-D2 and AT-AT cardboard models!
Fantasy Flight Games




In addition to being able to purchase models and game packs at the Fantasy Flight Games' stand, convention attendees could also play many of their RPGs with like-minded fans.
Funko




Pop! figures and Wacky Wobblers were the main items found at the Funko booth, along with giant-sized Chewbacca and BB-8 Pop! figures for taking selfies!
Hasbro / Forbidden Planet




Many forthcoming products from The Black Series, the regular 3 3/4" line and The Hero Series figures were among the items on display at the Hasbro / Forbidden Planet booth.
JAKKS Pacific




On sale at the JAKKS Pacific booth was their convention exclusive Captain Phasma Premium Edition and also on display were Big Figs from both their 18"-20" and Massive Scale lines.
LEGO




A number of LEGO's forthcoming sets were on display in their booth, along with full-size models of Kylo Ren, R2-D2, Rey & BB-8!
Musterbrand




German company Musterbrand featured a variety of outerwear, t-shirts and footwear on their display for men and women.
Royal Mail




On display at the Royal Mail booth, the postal service for the UK, were a number of different stamp sets which could be purchased in protective envelopes and also in a frame to hang on a wall.
SD Toys




SD Toys featured a wide selection of different items, including festive decorations, aprons and oven mitts, stationary and a whole lot more!
Tamashii Nations




On display at the Tamashii Nations stand were their line of movie realization figures featuring Japanese interpretations of Darth Vader, Boba Fett, Stormtroopers Sandtroopers and the Emperor's Royal Guard.
TOPPS




There was a wide variety of different products for attendees to peruse and purchase at the Topps booth, including their standard trading cards, oversized hobby cards, Force Attax cards, stickers and a whole lot more!
Uncle Milton




Uncle Milton teamed up with their UK distributor's Flair to present a number of their Star Wars Science products, such as their Lightsaber room lights, Jedi Holocron, Force Trainer and Death Star Planetarium.
Underground Toys




Sharing a booth with Funko, Underground Toys displayed a wide selection of products for the home and kitchen, including a waffle-maker, tea-pots, cake molds, mugs and plates.
EXHIBITS
Biker Scout Helmet Project




Following in the footsteps of previous art helmet projects, the Biker Scout Helmet Project featured designs from many artists, with the helmets being auctioned after the show to benefit the Make-A-Wish Foundation.
ILMxLAB




The ILMxLAB gave attendees a taste of being immersed in the Star Wars universe, with the opportunity to play as a Jedi and wield a lightsaber in the virtual reality experiment, Trials on Tatooine.
Rogue One Props and Costumes




Undoubtedly one of the highlights of the show was the
Rogue One
Props and Costumes exhibit, which featured a number of costumes and props from the movie.
PANELS
Star Wars Rebels Press Conference




Dave Filoni, Tiya Sircar and Sam Witwer held a press conference on Sunday morning to talk more about the Star Wars Rebels season 3 premiere shown the previous day.
Future Filmmakers and Closing Ceremony




Joining host Pablo Hidalgo, were Lucasfilm President Kathleen Kennedy, Vice President of Development Kiri Hart, Episode VIII director Rian Johnson, directors of the Han Solo stand-alone movie Philip Lord & Chris Miller, Alden Ehrenreich, John Boyega, Mark Hamill & Carrie Fisher along with their their respective dogs, Millie and Gary!