RAPPERTUNIE (Jabba's Palace)


Source: (Return of the Jedi)

Year / Release: 2004 / No. 08

Assortment: Jabba's Palace

Assortment: 84746/84715

Retail: $4.99

Weapons and Accessories:
Comments: Rappertunie was the stage name for an amphibious Shawda Ubb musician in the Max Rebo Band, which was part of the entertainment in Jabba the Hutt's palace. As one of the band's back-up musicians, Rappertunie played the growdi, a combination of flute and water organ. While most of the band went to the Great Pit of Carkoon for the execution, Rappertunie elected to stay behind, thus saving his life.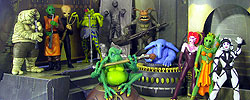 Back To Basic Figures