OBI-WAN KENOBI


Source: (A New Hope)

Year: 2004

Assortment:
Collectible Figures and Cups

Assortment No. : 32147/32146

Retail: $9.99

Weapons and Accessories:

Lightsaber
Collectible Cup
Comments: A dedicated and legendary Jedi Knight, Obi-Wan Kenobi had a long and tumultuous career that helped shape the fate of the entire galaxy. Courageous and wise, he was a master of the Force and fought ceaselessly to bring peace to the galaxy.
As the Rebels attempt to flee the Death Star, Obi-Wan Kenobi and Darth Vader square off in a final confrontation. As a diversionary tactic to help the others escape, Obi-Wan sacrifices himself to Vader and becomes one with the Force.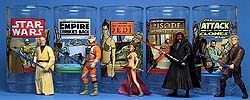 Back To Collectible Figures and Cups