PRINCESS LEIA


Source:
(Return of the Jedi)

Year: 2004

Assortment:
Collectible Figures and Cups

Assortment No. : 32151/32146

Retail: $9.99

Weapons and Accessories:

Force Pike
Collectible Cup
Comments: Princess Leia poses as the bounty hunter Boushh in an attempt to rescue Han Solo from Jabba the Hutt. She frees Han from his carbonite prison, but her identity is revealed. As punishment, the Hutt makes her one of his slaves.
A leader of the Rebel Alliance and a former senator in the Imperial Senate, Leia Organa is a driven, dedicated individual with a forceful personality. Her courage and daring were instrumental in defeating the evil Empire and restoring peace to the galaxy.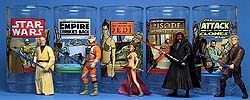 Back To Collectible Figures and Cups