DARTH MAUL


Source:
(The Phantom Menace)

Year: 2004

Assortment:
Collectible Figures and Cups

Assortment No. : 32148/32146

Retail: $9.99

Weapons and Accessories:

Lightsaber
Collectible Cup
Comments: Darth Maul was a weapon forged by the hateful energies of the dark side to ensure the victory of the Sith over the Jedi order. A creature of pure evil, Maul was completely devoted to his Sith master. His only goal was to destroy the Jedi.
Darth Maul battles Obi-Wan Kenobi and Qui-Gon Jinn in the heart of the Theed Royal Palace. The Sith mortally wounds Qui-Gon and almost defeats Obi-Wan. But Maul is caught by surprise when the Jedi strikes back and ends the Sith's life.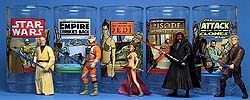 Back To Collectible Figures and Cups