DARTH VADER
2004 Silver Saga Edition


Source:
(Star Wars Saga)

Year: 2004
(Toys "R" Us Exclusive)

Assortment:
Silver Saga Edition

Retail: $9.99
(Or FREE with $19.99 purchase)

Assortment Number: 85428

UPC Number: 5356902395

Weapons and Accessories:
Comments: More than 25 years after we first saw the Star Destroyer enter the screen at the beginning of A New Hope, Star Wars continues to both inspire and entertain. Much more than just a series of films, Star Wars is a total experience. Essential components of that experience are the toys that we grew (and continue to grow) up with and the sense of community that brings us together to discuss, debate, and share all things Star Wars. It is with respect to the heritage of that experience that Hasbro offers this limited action figure to celebrate the dedication and enthusiasm of the fan community.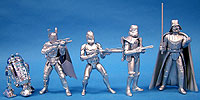 Points of Interest:
This version of Darth Vader will be available at Toys "R" Us stores as a free gift with $19.99 purchase. OR, you might be able to buy him for $9.99, depending on the store policy.
This figure is based on the Power of the Jedi Dagobah figure, with the head from the Emperor's Wrath figure.

Back To Exclusive Figures