FELTIPERN TREVAGG (Cantina Encounter)


Source:
(A New Hope)

Collection: Transitional

Year: 2005

Number: 05-06

Assortment: Cantina

Retail: $6.99

Assortment Number: 85323/85172

UPC Number: 7693085323

Weapons and Accessories:
Comments: Feltipern Trevagg is a bounty hunter who tracks Obi-Wan Kenobi to Tatooine after the Clone Wars but loses him. Trevagg stays on the planet and becomes a corrupt tax collector in Mos Eisley. His species is called the Gotal, who can sense emotions and energy waves that many speices canít, a trait that comes in handy for tracking.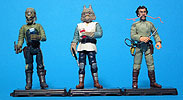 Points of Interest:
Feltipern Trevagg is an all-new figure
Also included with this figure is a folding pamphlet that shows other toys in the Original Trilogy Collection.

Back To Transitional Figures