MYO (Cantina Encounter)


Source:
(A New Hope)

Collection: Transitional

Year: 2005

Number: 05-07

Assortment: Cantina

Retail: $6.99

Assortment Number: 85324/85172

UPC Number: 7693085324

Weapons and Accessories:
Comments: Myo spends a lot of time in the Mos Eisley cantina, hoping to get into a fight. His species, the Abyssin from the planet Byss, are primitive, violent and can re-grow lost limbs. Myo is very fearless and with his one central eye, he can spot trouble as it is about to happen—when he isn't finding a way to cause it.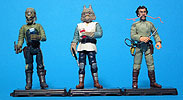 Points of Interest:
Myo is an all-new figure.
Also included with this figure is a folding pamphlet that shows other toys in the Original Trilogy Collection.

Back To Transitional Figures