DANNIK JERRIKO (Cantina Encounter)


Source:
(A New Hope)

Collection: Transitional

Year: 2005

Number: 05-08

Assortment: Cantina

Retail: $6.99

Assortment Number: 85325/85172

UPC Number: 7693085325

Weapons and Accessories:

removable Proboscises
Hookah Pipe
Blaster
Base
Comments: Dannik Jerriko is a very dangerous Anzati. When he attacks a victim, he uncoils small, trunk-like organs (called proboscises) hidden in his cheeks, inserts them into the victimís nose and ingests the personís blood and brain matter. Even the nastiest creatures in the cantina stay away from Jerriko.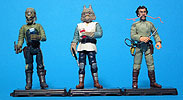 Points of Interest:
Dannik Jerriko is an all-new figure.
Also included with this figure is a folding pamphlet that shows other toys in the Original Trilogy Collection.

Back To Transitional Figures