JABBA'S SAIL BARGE


Source: Return of the Jedi

Year: 2009
(Toys "R" Us Exclusive)

Assortment: Galactic Heroes

Assortment Number: 98940/91490

UPC Number: 6 53569 42681 3

Weapons and Accessories:
Red Ball Jet Keyboard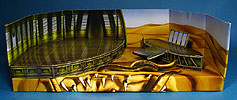 Comments: Calling all Jedi and Sith Lords! Wookiees and Ewoks! Droids and Jawas! The Star Wars Galactic Heroes figures have arrived in a galaxy near you!
Grab your lightsaber, fire up your starfighter engines, and blast into hyperdrive fun wityh the greatest Galactic Heroes of all time!

Points of Interest:
Photography by Dan Curto

Back To Galactic Heroes