STAR WARS EVOLUTIONS
(Anakin Skywalker to Darth Vader)


Source: (Star Wars)

Year: 2005

Assortment: Evolutions

Retail: $19.99

Assortment Number: 85662/85553

UPC Number: 5356905496

Weapons and Accessories:
Anakin Skywalker
(Jedi Hero):


Lightsaber Blade
Lightsaber Hilt
Human Right Hand
Mechanical Right Hand
Chain


Anakin Skywalker
(Clone Wars Hero):

Lightsaber Handle
Mechanical Right Hilt
Right Sleeve
Right Glove
Jedi Cloak


Darth Vader
(Evil Sith Lord):

Lightsaber
Removable Helmet
Comments: Experience the evolution of the greatest villain the galaxy has ever known! These figures capture the fall of Anakin Skywalker and the rise of Darth Vader! Anakin is a young Jedi who fights for all that is good. He emerges as a hero of the Clone Wars but is lured to the dark side of the Force. He joins the evil Sith and becomes the menacing Darth Vader. From hero to villain, his power and influence change the destiny of a galaxy!














ANAKIN SKYWALKER
(Jedi Hero)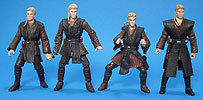 ANAKIN SKYWALKER
(Clone Wars Commander)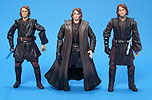 DARTH VADER
(Evil Sith Lord)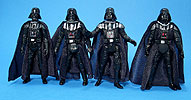 Points of Interest:
Photography by Dave Myatt

Back To Evolutions