AT-RT ASSAULT SQUAD


Source: Expanded Universe:
(During Revenge of the Sith)

Year: 2007
(Target Exclusive)

Assortment: Battle Packs

Retail: $29.99

Assortment Number: 87376

UPC Number: 6 53569 25039 5

Weapons and Accessories:
2 AT-RTs
2 AT-RT Drivers
Clone Commander
Blaster Rifle
Rocket Launcher
Projectile

Comments: Agile and lightweight,AT-RT walkers can move through challenging terrain to scout out the enemy's presence. The walkers are also used to patrol borders, giving their clone trooper drivers more mobility and better visibility than they would have on a foot patrol. AT-RT walkers are deployed during the Battle of Kashyyyk against the droid armies that attempt to take control of the jungle homeworld of the Wookiees.
AT-RT: All Terrain Recon Transport walkers are used for patrol and reconaissance by the Grand Army of the Republic. Clone troopers receive special training to operate these bipedal, one-man walkers, which are armed with a repeating blaster cannon and a mortar launcher.
AT-RT Drivers: These clone troopers are specially-trained to ride AT-RT walkers and are outfitted with armor and helmets designating them as drivers. AT-RT drivers are part of the 41st Elite Corps that is sent to Kashyyyk during the Clone Wars.
Clone Commander: Commanders in the clone army are bred for leadership positions with more capability for the independent thought required for decision making. Clone commanders assist the Jedi Generals on missions during the Clone Wars.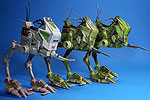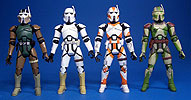 Watch the video clips above for all the AT-RT action!
Points of Interest:
The 2 AT-RTs are repaints of 2005's ROTS AT-RT. This time around, each vehicles has a unique deco.
THe 2 AT-RT Drivers are repaints of 2005's ROTS AT-RT Driver.
Clone Commander is a repaint of 2005's ROTS Commander Bacara. He also includes the rocket launcher originally packed with the AT-RT-Driver.
4 AA batteries not included.
Photography by Dan Curto
Also included with this figure is a folding pamphlet that shows other toys in The 30th Anniversary Collection.

Back To Vehicles