Darth Vader
FORCE ACTION LIGHTSABER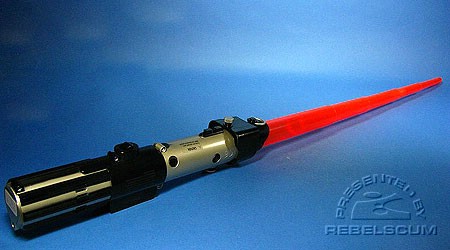 Source:
Star Wars

Year: 2007

Assortment: Role Play Weapons

Retail: $19.99

Assortment Number: 87124

Weapons and Accessories:
Spring-Loaded Blade
Electronic Lights and Sounds

Comments: In the hands of the evil Darth Vader, this lightsaber has sown sorrow from one end of the Empire to the other. Now, it is yours to use as you see fit. Take up your destiny and join the battle as an insidious Dark Lord of the Sith! Just press the button to trigger the spring-activated blade!

Points of Interest:
The display stand shown in the photos is not included with the blaster. It's a FlexiDisplay stand, and you can find out more about it here.
Photography by Dan Curto