Top Trumps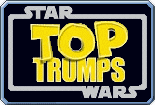 Top Trumps have been a favourite school yard game in Great Britain since the 1970s. It was in 1977 that Dubreq launched the first three Top Trumps decks (Dragsters, Military Planes and Ships), priced £0.50, in their now traditional red plastic boxes with clear perspex lids.
Waddingtons, one of the largest British toy manufactuers, bought Dubreq in 1982 and absorbed Top Trumps into its own range of toys. In 1984 Top Trumps were replaced by Super Top Trumps - the same game but with extended facts and figures, and no rule cards or other inserts.
The Top Trumps fad began to fade in 1985 due to the increasing cost in licensing comic characters and football players and eventually production was wound down. 1999 saw Winning Moves purchase Top Trumps from Hasbro (now the owner of Waddingtons) and relaunched the line in its original 70s-style case with all new ranges covering modern television, extreme sports and blockbuster movies, as well as renewing the classic sports, militaria and vehicles themes. In 2004 Winning Moves approved Parker Brothers to produce a licensed version in the US, and then later in the same year brought out a UK card set as well as a number of exclusive cards for the domestic market.
For more information on Top Trumps visit Winning Moves or Top Trumps, and Simply Top Trumps for the rules of the game.
Click here for a complete checklist